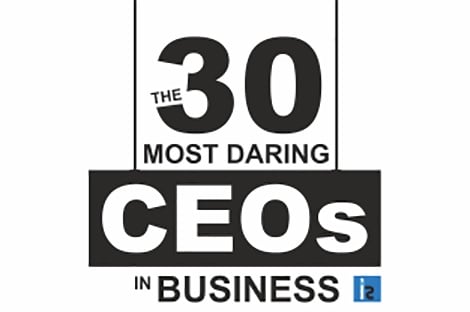 Hyperion President Eyal Iffergan Named One of Nation's Most Daring CEOs
Recognized by Insights Success for "Delivering the Legal Profession into the Future"
SUGAR LAND, Texas (January 21, 2018) – Hyperion Global Partners announces that its President and CEO Eyal Iffergan has been named one of the nation's most daring CEOs by Insights Success magazine, considered one of the top publications in the world for enterprises.
As the leader of the premier global consultancy for legal business strategy and operations, Iffergan is known throughout the legal industry for implementing dynamic business strategies, transformation programs and systems that align legal operations with business objectives. Hyperion Global Partners' many clients include AmLaw 200 law firms and Global 1000 corporations.
Insights Success features emerging, as well as leading, fastest growing companies focusing on how they deliver effective and collaborative solutions to strengthen their market share. Its "Top 30 Most Daring CEO" list is comprised of business leaders who successfully challenged the status quo.
The publication recognized Iffergan's creation of Hyperion Global Partners as a new model consulting practice that challenged all of the conventional wisdoms of the industry. In many ways, Hyperion Global Partners became the "anti-consultancy," by innovating the way it hires, the services it offers, the way it delivers those services, and how it bills for them.
Noted by Insights Success for "Delivering the Legal Profession into the Future," Iffergan's career spans over 20 years of leadership in advising the legal and intellectual property business communities. He brings broad-based legal process and technology experience to managing influential global practices and companies, including founding and building several market-revolutionizing enterprises.
"It's actually not easy at all to be an entrepreneur. In my lifetime, I've met many people who thought they were entrepreneurial, yet only a small fraction of them really were," says Iffergan. "Being entrepreneurial means two things: first, having the drive and imagination to create; and second, accepting the risks and challenges required to execute them."
In developing the Hyperion Global Partners business model as a consultancy that offers fixed-fee, context-driven services for advisory, operations and transformation initiatives, Iffergan differentiates its services from most consultants who charge hourly fees. Demonstrating Iffergan's fresh approach, Hyperion Global Partners' clients benefit from the multi-disciplinary team he leads, including attorneys, MBAs, PhDs, Technologists, Management Consultants, Software Executives and other business professionals who focus on legal performance management and operational excellence.
Iffergan excels at addressing the challenges of legal business operations to manage intellectual assets, formalize and codify workflow, and create collaborative work environments through holistic information management strategies. He built Hyperion Global Partners as a consultancy of experts and thought leaders who design and implement enterprise-wide strategy and transformation programs. His extensive experience includes legal technology transformation for Intellectual Property Management, Information Strategy, Workflow and Process Automation, Practice Operations, Risk Portfolio Management, Performance Management and Global E-Billing.
He is known industry-wide for his leadership of market-revolutionizing companies and approaches, including his role as president of an international innovations corporation specializing in the applications and licensing of advanced technologies in high security and communications. He also founded and sold a number of successful legal technology companies. Prior to founding Hyperion Global Partners, Iffergan was a Principal at Baker Robbins & Company, at the time the industry's largest and leading technology consulting company, and led it to its acquisition.
Iffergan sits on several corporate and advisory boards. He also holds numerous awards and recognitions from industry associations and is a frequent speaker at legal professional conferences. He shares his thought leadership at http://insights.hgpresearch.com/