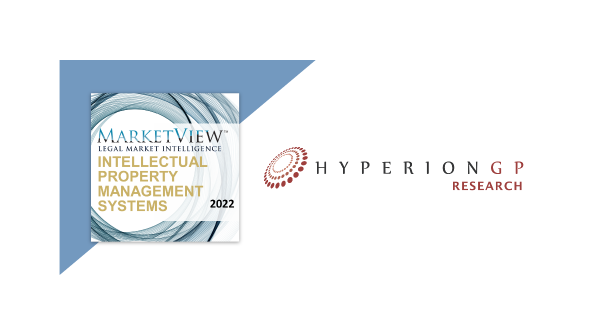 New Release! The 2022 MarketView for Intellectual Property Management
The highly anticipated release of Hyperion's
MarketView Report: Intellectual Property Management

is finally here!

NEW FOR 2022! Incorporating over 500 hours of industry benchmarking, primary interviews, client references and vendor briefings, the report provides an invaluable resource for innovation-driven companies and IP-centric law firms to understand the leading trends in Intellectual Property Business Management (IPBM) and business-integrated lifecycles.
This report will appraise the shifting vendor and product landscape of IP Management, while also highlighting the important trends shaping the industry. Our review focuses on solutions that raise the bar for innovativeness, delivering powerful capabilities that address the broader IP management needs of the entire firm or enterprise.
This Hyperion Research MarketViewTM Report is oriented towards the solution needs of corporate legal departments and law firms of all sizes that are seeking products and processes in the IPM software market that provide "end-to-end" IP lifecycle solutions.
The focus of this MarketViewTM Report includes:
Solutions capable of global law department and law firm support
Integrated solutions that address the needs of Intellectual Property Management
Workflow and advanced process management and automation capabilities
Advanced reporting and analytics
Modern technology approaches and design, particularly in terms of user experience, scalability and security
Comprised of nearly 260 pages, the report provides:
Trends in the solution market
Hyperion's 100 key solution components of leading IPM Systems
Comprehensive overview of the IPM vendor landscape
Review and assessment of 19 solutions
Guiding principles for selecting and implementing solutions
21 vendors are covered, including Advanced Solution coverage for products from Anaqua Inc., ClarivateTM, Dennemeyer, Maxval, Patrix, and TM Cloud.
Purchase of this report includes a 60-minute briefing session. The briefing session provides an opportunity for your team to meet with our analysts to ask questions and address their particular areas of interest.