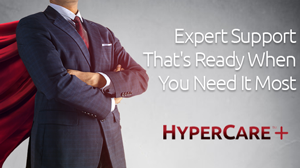 Hyperion Launches HyperCare+ Program for an Elite level of Process Automation Support
One-of-a-kind Premier Support Program for Major Process Automation Solutions
SUGAR LAND, TX (July 19, 2018) — Hyperion Global Partners, the premier global consultancy for legal business strategy and operations, announces the launch of HyperCare+™, offering the highest level of expert support for major Process Automation Solutions.
The all-inclusive solution care and support program was developed to help firms maximize ROI from their custom process and automation investments on the industry's leading platforms, including Intapp OPEN, Metastorm BPM andK2 blackpearl, as well as legacy solutions on Adobe, Jetforms, Elite and others.
"HyperCare+ really starts where vendor support ends," said Eyal Iffergan, president and CEO of Hyperion Global Partners. "Vendor maintenance agreements for BPM systems are designed to cover their platforms, but everyone then uses those platforms to build bespoke and highly personalizes applications, such as New Business Intake and other mission-critical workflow solutions. HyperCare+ was developed specifically to cover these custom BPM solutions, supporting these significant investments to grow and evolve with your businesses."
"HyperCare+ is staffed by experienced senior experts certified in all of the leading workflow platforms and experienced in hundreds of legal application designs and implementations," added Garvin Fouts, Managing Director of Hyperion's Workflow and Automation team. "Available to answer all technical or process-related questions, the extensive menu of services also includes access to Hyperion's expert staff, who can mentor and train in-house staff to help them manage their project responsibilities."
The HyperCare+ Program delivers three integrated service programs in an all-inclusive annual subscription:
Technical Support: SLA-driven phone and ticket-based support for issue resolution, system down critical issue management, server install, maintenance and configuration (including hot fixes and service packs), and issue escalations;
Custom Applications: Support for your custom in-house processes and interfaces, including maintenance and process updates.
Mentoring and training: supported by the most experienced process automation team in legal, our team is there to support yours whenever you need it.
For more information about HyperCare+ and the extensive Program offering, please visit hypercare.net or email hypercare@hyperiongp.com.
ABOUT HYPERION GLOBAL PARTNERS
Founded in 2009, Hyperion Global Partners is recognized as the premier global business and technology consulting practice for the legal profession. Hyperion Global Partners brings over twenty years of dedicated experience in legal business, operations and technology solutions. We advise Am Law 200 law firms, Global 1000 corporations and other legal service organizations to make intelligent, fact-based decisions about how to improve their operational performance. A consultancy of experts, we focus on helping our clients lead transformation programs with strategic value-based engagement models and legal business expertise in process, operations, organization and technology.
For more information, please visit www.hyperiongp.com.