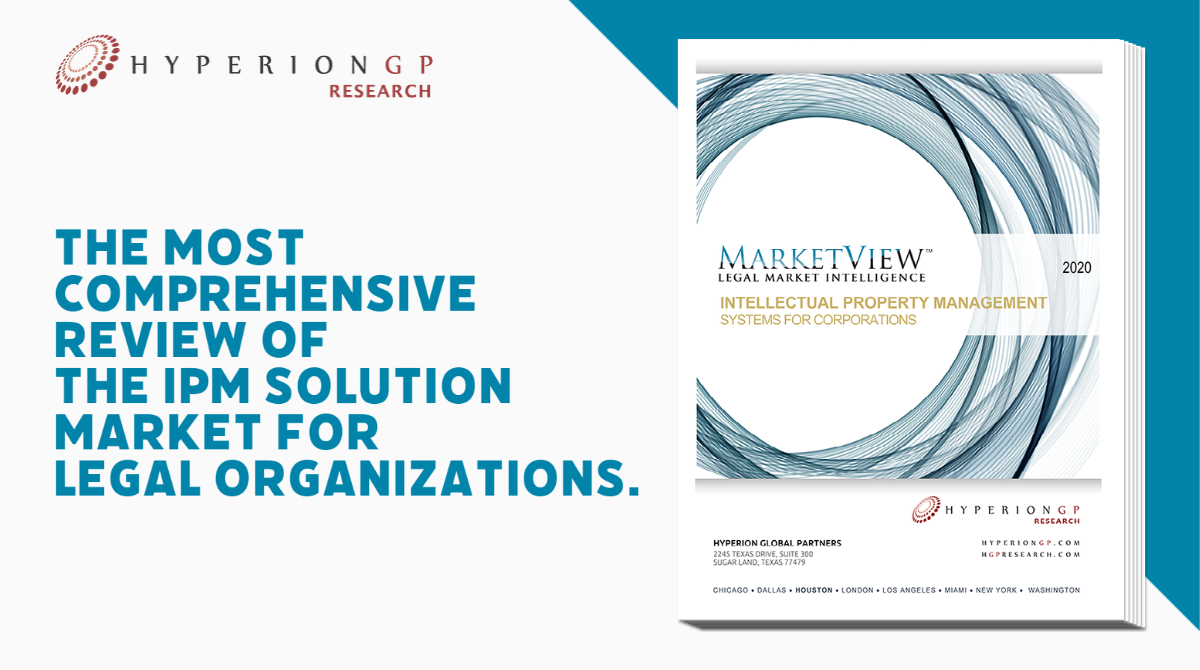 Hyperion Announces 2020 MarketView Report for IP Management Systems
The Market's Most Comprehensive Resource for Evaluating IP Management Solutions for the Corporate Market
SUGAR LAND, TX – November 17, 2020 - Hyperion Global Partners, a division of Epiq, a global leader in the legal services industry, today announces the company's research arm has released its highly-anticipated MarketViewTM Report: IP Management Systems for Corporations. New for 2020, the report provides a review of the trends driving the IP Management market and leverages Hyperion's proprietary MarketViewTM methodology to deliver comprehensive evaluations of the Market Participants and Advanced Solution Providers that define the IP Management solution landscape.
This Hyperion MarketViewTM Report is focused on the needs of corporate IP departments that are seeking solutions that include modern capabilities in IP Management as well as collaboration, workflow and integrated analytics.
Hyperion's acclaimed MarketViewTM program serves as the definitive and only independent, analyst-based resource for legal solutions market intelligence and advice. With over 500 hours of analyst research, benchmarking, client interviews and vendor briefings, this MarketView™ Report provides an invaluable resource for General Counsel and Legal Operations Managers to understand the leading trends in IP Management, and the software solutions landscape.
Comprising approximately 130 pages, the report provides all the research and analysis you need to drive a solution evaluation process, including:
Trends in the solution market

Key solution components we expect from leading solutions

Identification of vendors in the solution area

Review and assessment of advanced solution providers

Guiding principles for selecting and implementing solutions
"The IP Management industry is transforming at a rate never seen before." said Eyal Iffergan, President of Hyperion Global Partners. "The vendor landscape has changed substantially since our last MarketViewTM report and several new and updated solutions have been released to address the increasingly important IP Business Management (IPBM) paradigm. This latest report highlights the many powerful choices today's IP groups have when it comes to aligning IP and business strategy."
In this MarketViewTM Report, 25 vendors are covered, including Advanced Solution coverage for products from Anaqua, CPA Global, Dennemeyer, MaxVal, Patrix and TM Cloud, Inc.
The report is available immediately to all Hyperion Research Membership clients, or for purchase online with immediate download at Hyperion Research (www.hgpresearch.com). Purchase of the report includes a 60-minute briefing session with a Senior Analyst to discuss and answer questions about the market and solution providers.
CLICK HERE for more info and to order the report.
ABOUT HYPERION GLOBAL PARTNERS
Hyperion Global Partners, a division of Epiq, is a premier global consultancy to the legal profession. We advise Am Law 200 law firms, Global 1000 corporations and other legal service organizations to make intelligent, fact-based decisions about how to improve their operational performance. A consultancy of experts, we focus on helping our clients lead transformation programs with strategic value-based engagement models and legal business expertise in process, operations, organization and technology.
Hyperion Research is the industry's leading source for Legal Solutions Market Intelligence. The profession's leaders, innovators and trend-makers have come to rely on Hyperion Research as the premier provider of independent market research, analysis and advisory services. We provide unparalleled insight to the leading trends in legal strategy, operations, and technology.
Hyperion's analyst-based research and benchmarking informs 8 out of every 10 practice management system selections each year.